Advantages Of Using Epoxy Floor Coating For Commercial Use
Posted by Admin on May, 26, 2020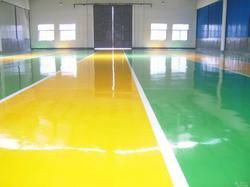 Epoxy floor coating is used for a variety of residential and commercial flooring due to its durability and hard-wearing nature. The epoxy coating allows for high performance and at the same makes the concrete floor appear very pleasing to the eye. Several epoxy coating suppliers in India offer a one-stop solution to all your flooring problems. Listed below are a few advantages of using epoxy floor coating for commercial use.

Easy To Clean
This is the best feature of using epoxy floor coating as you can easily wipe the dirt and dust off the concrete floor making it ideal for industries such as food, pharmaceutical, beverages, etc. Since these are easy to clean epoxy floor coating is very popular for commercial usage.

Safety
Safety is akey factor to consider when choosing any type of flooring.Epoxy floor coating can help improve safety by creating flooring that is resistant to any kind of slip, impact, and fire hazards thereby allowing faster transfer of material and reducing tear and wear on the companies transport vehicle. Epoxy floor coating can also help to brighten the space.

Appealing To The Eye
These epoxyfloors coating has a great aesthetic appeal. They provide high gloss finish and are available in a variety of colors and styles both online and in market space. One can also opt for a decorative pattern in tradition or modern design to make the flooring pleasing to the eye. Epoxy floor coating allows you to upgrade the ambiance of your space in a very economical way. Epoxy coating supplier in Mumbai offers a premium quality product range to their valuable customer in their set budget.

Environment Friendly
Epoxy floor coating is a very environment-friendly flooring solution and easy to install. Industries that are looking for an opting flooring solution that has low carbon footprint epoxy floor coating are the perfect solution to their flooring problems.

Cost-Effective
Installing good quality flooring can be very expensive. Epoxy floor coatings are very cost-effective as they are very easy to install, durable, and requires minimum maintenance as compared to some other flooring solution available in the market space. Epoxy floor coating if installed properly can last many years with cracking.

Designated Work Zone
Since the epoxy floor coating offers a variety of colors and style you can easily opt for different colors for the designated work zone. These different color flooring will allow to define different work zone, safety zone, etc and at the same time help maximize efficiencyand productivity.

Although epoxy floor coating has multiple usage,s there are also some disadvantages of using it. Therefore you must seek expert advice before opting for installing it in your property. Because once installed Epoxy floor coating making changes in color or design can be very expensive and time-consuming. Epoxy coating wholesale suppliers in Mumbai offer bulk quantity products at market competitive prices to their customers all across the nation.
This entry was posted on May, 26, 2020 at 11 : 14 am and is filed under Ms GLOBE CARBON INDUSTRIES. You can follow any responses to this entry through the RSS 2.0 feed. You can leave a response from your own site.